Shekhawati is one of the most influential region of entire Rajputana. This region gave the maximum number of soldiers to Indian armed forces compared to any area of whole of the country. Bravery and Chivalry is synonymous with Shekhawati and it's people.
Etymology of term 'Shekhawati' :
Word Shekhawati literally means the "Garden of Rao Shekha". Word Shekhawati is made with two different words Shekha+wati, where Shekha stands for the founder ruler Maharao Shekha Ji and Wati means the Garden or Vatika in Devanagari. Hence Shekhawati is the area which was ruled by Maharao Shekha Ji and his descendants.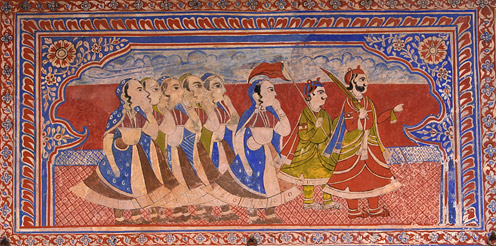 History of Shekhawati:
 The great Kachhwaha Rajput warrior Maharao Shekha Ji layed the foundation of Shekhawati after separation from parent Jaipur-Amber state in the 15th century. Shekha Ji was the son of Thakur Mokal Ji Kachhwaha of Nan-Amarsar.  Earlier the region was under the rule of Jaipur-Amber state but later on the mighty ruler Maharao Shekha Ji declared his estate as an independent agency in 1471 AD. A war between Shekha Ji and Raja Chandrasen Ji of Amber was the turning point where Amber lost to brave Shekha Ji and as a result a treaty was signed recognizing Shekha Ji as a separate independent ruler. Shekhawati was always a strategic location  between the territories of Delhi and Jaipur, hence the Shekhawats have an important role to play in the power struggle of those days. Shekhawats spread their rule in Jhunjhunu, Sikar & parts of Churu, Jaipur, Alwar, Nagaur and Narnaul-Singhana. Hissar and Loharu were also won by the Shekhawat Rajas.
After Maharao Shekha Ji his off springs continued the legacy and till date by serving their motherland with full honor and dignity. Raja Raimal Ji, Raja  Raisal Ji of Khandela, Raja Girdhar Dass, Maharao Shardul Singh Ji, Raja Sheo Singh of Sikar, Raja Ajit Singh Bahadur of Khetri and many Thakurs of various Shekhawati Thikanas have done their best to protect their land from enemy. The people of Shekhawati are still continuing the same tradition by serving in the Armed forces of India at large. Company Havildar Major Piru Singh Shekhawat(village Rampura Beri) of Rajputana Rifles was honored with Paramvir Chakra posthumously. This is the highest gallantry medal in India.