Bikaner state was a prominent part of erstwhile Rajputana's northern territories, the city of Bikaner was founded by Rao Bika Ji. Rao Bika was the son of Rathore warrior Rao Jodha Ji of Marwar. As per then prevailing Rajput traditions, Rao Bika has no chances of inheriting the title of Ruler of Marwar being the younger son. Therefore he decided to create his own independent kingdom with the help of his uncle Rao Kandhal Ji. The boundaries of Bikaner state were spread across current districts of Bikaner, Churu, Sriganganagar and Hanumangarh.
For almost 2 centuries the Rathores of Bikaner remained in bad terms with their cousins of Jodhpur.
Bikaner city was the capital of Bikaner state.
History of Bikaner:
Rao Bika was a ruler with high aspirations and hence usurped the land of strong Bhati Rajputs and established his own independent kingdom in the region in year 1465 AD. The descendants of Rao Bika are known as Bika Rathores, the Bikas ruled the Bikaner state till independence and then became part of Indian union in 1949. The rulers of Bikaner were as brave as like other Rajput clans of Rajasthan and have played important role during Mughal Era, British period and during pre & post Independent India. Art of music and sculpture flourished rampantly during the times of Bika Rathore rulers. Bikaner has produced many sports persons, folk music artists and of course the famous business houses of independent India.
Karni Mata is the family deity or Kuldevi of Bika Rathores, however the followership of Karni Mata is extended to all sections of society irrespective of caste and creed in Rajasthan and also in the adjoining states of India.
The Bika Rathores of Bikaner have built magnificent Lalgarh and Junagarh fort, most of these properties are now converted in to heritage hotels for tourists coming to visit the place.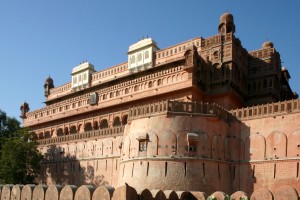 Locally made Bhujia and Rasgullas are mouthwatering delicacies of Bikaner and more or less a parallel identity to the city these days.
Rulers of Bikaner:
A small list of some famous rulers of Bikaner (Not in chronological order):
Rao Bika, Rao Narayan Singh, Rao LunKaran, Rao Jait Singh, Rao Kalyan Mal, Rao Rai Singh I,  Rai Dalpat Singh, Rai Surat Singh, Rao Karan Singh Jangalpat Badhshah, Maharaja Rao Anup Singh, Maharaja Rao Sarup Singh, Maharaja Rao Sujan Singh, Maharaja Rao Zorawar Singh, Maharaja Rao Gaj Singh, Maharaja Rao Rai Singh II, Maharaja Rao Pratap Singh, Maharaja Rao Surat Singh, Narendra Maharaja Rao Ratan Singh, Narendra Maharaja Rao Sardar Singh, Narendra Maharaja Rao Dungar Singh, General Narendra Maharaja Sir Rao Ganga Singh, Lieutenant General Narendra Maharaja Sir Rao Sadul Singh, Rao Karni Singh
Other Famous Persons from Bikaner:
A brief list of people from Bikaner who have left their marks in different fields of bravery, arts and sports.
Allah Jilai Bai, Rajyashree Kumari, Vijay Shankar Vyas, Sidhhi Kumari, Kishan Singh Rathore, Devi Singh Bhati, Rajiq Khan, Nand Kishore Acharya, Dr. B.D. Kalla, Reshma (Singer), Bharat Vyas, Hisam-ud-din Usta, Raja Hassan, Sandeep Acharya and many others.